Trauma, adversity and the epigenome: Looking within and between generations in two African ancestry populations
Exposure to trauma is unfortunately quite common, with over 70% of adults reporting an experience of trauma globally. Despite the high prevalence of trauma, exposure to such events is not evenly distributed within or between populations. Moreover, the biological impact of traumatic events remains poorly understood. Epigenetic mechanisms have gained prominence as potential mediators of traumatic stress, in part because of their ability to change in response to lived experience, including stressful and traumatic exposures. In this presentation, I will provide an overview of epigenetic studies of traumatic stress in two populations of African ancestry. Drawing on the Detroit Neighborhood Health Study, I will describe recent investigations of how social adversity influences epigenomic processes that elevate risk for stress-related psychopathology in an African American population. I will also present ongoing work to assess the intergenerational impact of stress and trauma on the epigenome in association with exposure to the Rwandan genocide against ethnic Tutsi, as well as the larger H3Africa consortium with which this project is affiliated. Finally, I will describe how both projects help to tackle a persistent public health problem, namely a lack of diversity in genomic data that exacerbates health disparities.
Biography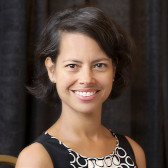 Monica Uddin is a Professor at the University of South Florida College of Public Health, where she is a member of the Genomics Program housed within the Center for Global Health and Infectious Disease. Her research program focuses on the impact of stress and trauma on the genome and involves multiple, NIH-funded projects grounded in broadening diversity in genomic science. Uddin received a bachelor's degree in Human Biology from Stanford University and a PhD in Anthropology, with a focus on Molecular Anthropology, from New York University. Prior to joining USF, she held faculty positions at Wayne State University School of Medicine, the University of Michigan School of Public Health, and the University of Illinois at Urbana-Champaign.
Tuesday, October 6 at 4:00 pm
Virtual Event